School #19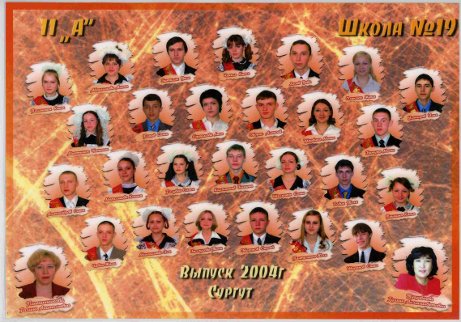 The school was founded in 1987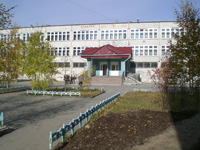 The school are taught in middle and senior level 740
Equipped with 2 computer classes, Internet access. There are dental and medical offices, sports and fitness facilities, playground, ski base.
The library fund is 36900 copies. Equipped library and reading room.
The main priorities are:
ensuring quality of general education
development of supplementary education
to foster civic and social activity
a system of active self -
incorporation into the municipal system of school education.
Additional education:
sports section: basketball, volleyball, skiing, general physical training;
vocal studio;
studio art;
choreographic studio;
chorus;
vocal-instrumental ensemble;
club and military-sport training;
circle of Electrical and technological creativity;
Debate Club;
Information note on the history of the school.
Average secondary school number 19 has been operational since 1 September 1987 in a model three-storey building with 800 seats (the total area occupied by the school is 7311 square meters). Education in 2 shifts occur at all levels of education: I level (elementary school), II stage (elementary school), III degree (high school).
In 1995, primary school was determined in an independent institution, which supports partnerships: the main contingent of students continued to receive education in our school, classes are stored in acquisition teams.
Information note on the school.
Average secondary school number 19 is in the neighborhood "Geologist".
The school has a prosperous socio-cultural environment: cultural and sports institutions (Children's Musical School â"– 3, Children's Computer School Informatics + "pool" Dolphin ", KSK" Geologist "), so the school is one of the cultural and educational centers.
Average secondary school provides basic education on the II and III levels.
regime of the school:
duration of lessons - 40 minutes
6-day school week for primary grades and high school, including special (remedial) classes VII form;
I shift - 5, 9 - 11 classrooms, a sports class 6A, special (correctional) classes VII form 8AB, II shift - 6, 7 classes.
On the II and III stages of training are completed secondary school (respectively 21 and 9 classes, sets), one at Level II - 3 special (remedial) classes VII of the form: two parallel to the 8 th grade, 9 grade. At Level III training shaped profile technology classes, one of the classes in charge of urban development enterprise GRES-2. Each year students are the winners of the city tour subject competitions, participate, and are winners of the District round subject Olympiads: 2004 - 2005 school year -3 place in the literature (10 class), 1 seat for Physical Culture (11 class) 2005 - 2006 academic year -- 3 rd place in Biology (grade 9). V2007 was a student in Grade 10, Dmitry Dmitriev won 1 seat in the District competition in chemistry, and then took part in the All-Russia round substantive Olympiad.
High rates are found in physical culture: students are winners of various sports. Since 1999, took 1 st place in the sports school (13 species).
Repeatedly, students 10 - 11 classes participated in the city conference of young researchers of scientific and social program "Step into the Future: 2002 - 2003. - 3 persons, 2003-2004. - 2 persons, 2005-2006. - 2 persons, 2007-2008. - 1 man, 2008-2009. - 4 people.
Preventive work in schools aimed at preventing crime and antisocial acts of minors, protection of rights and legitimate interests of minors. In OU established legal framework, to develop programs of prevention, psychological support of students, joint action plans with the police department-3 ATC ATC SHBDD Surgut, security organizations, parents' committees, institutions additional education.
For individual program teaches children with chronic illnesses at home. Schedule takes into account the mode of data of children, helps to avoid overloading.
Pedagogical Team, which account for 72 people (including 1 Pooh-Bah), can be characterized as follows:
on length of service:

to 5 years - 19%
from 5do 10 years - 19%
from 10 to 20 years - 38%
of 20 or more years - 49%

by age:

20 - 30 years - 8%
30 - 40 years - 29%
40 - 50 years - 31%
50 or more - 32%

in qualifying categories:

«highest" qualification category are 18%
«first" qualification category, with 48%
«second" qualifying categories have 25%
is not certified 17% of teachers
The teachers noted the following awards:
«Honored teacher of Russia" - 1 person
«Excellence in Education" - 5 people
«the Honorable worker of the general education of Russia" - 6 people
«Veteran of Labor" - 5 people
«Diploma of the Ministry of Education" - 6 people
«Excellence in Physical Culture" - 1 person
«Diploma of the Department of Education and Science HIAO-S" - 7 persons.
One of the challenges facing the school administration, is to improve material and technical base. At present, general educational establishment has:
classrooms - 32 (including special-study chemistry, physics, OBZh, 2 computer)
laborantskih - 4
Workshop - 3
Gymnasium - 1
Gym - 2
Hall of corrective gymnastics - 1
Assembly hall - 1
Room for extracurricular activities - 1
Cabinet psychologists - 1
Study of social pedagogues - 1
Logopunkt - 1
Medical office with the procedural and the dentist
A typical dining room for 120 beds planted
Library with reading room
Currently the school has the following facilities: 4 projector, scanner, Board Smart Board, 11 PCs with Internet access, 38 personal computers, 12printerov, 4 copiers, digital camera. Replenished annually and the library of the school. Provision of textbooks was more than 90%
The school is working with various organizations and agencies:
additional agency Education Development Center, NY "DEAZ and IP", SGMUP "SPOPAT", SGMUP "KSHP", maintains business relationships with contractors and construction organizations
Information source